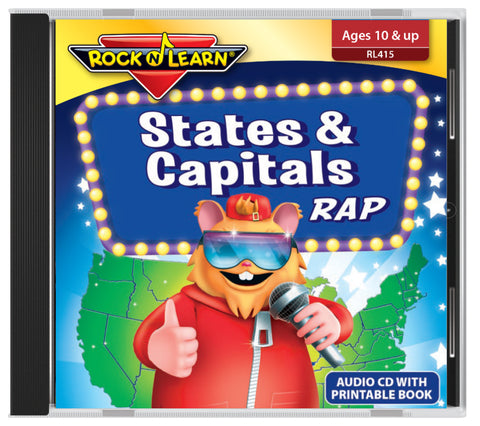 Of all the programs to learn the states and capitals, the cool rap songs make this one fun and simple to use. Positive, motivating lyrics help hold the interest of students, allowing them get top grades. A link to print a follow-along book is included with fun facts about each state. Delayed answers on some songs allow students to check their progress.
Ages 10 & up. Approx. 30 minutes.
(RL415)  
Also available as an iBook.
"I was searching for programs to learn the states and capitals and came upon yours. I've found that it works well with my students. I have a listening center set up in my classroom. When a student needs individual help for learning the states and capitals, that's where they go. I have some of your math programs too." – fifth grade teacher

 

"Thanks a million! I have used many of your DVDs in my classroom. The best one has been the States & Capitals Rap. I don't know why but children don't "memorize" like they did before. Your programs take the drudgery out of what would otherwise be monotonous repetition." – Sharon P., teacher

 

"I like this CD for learning the states and capitals. The rap performer sounds cool." – Chris S., age 10

Rock 'N Learn States & Capitals Rap CD comes with a reproducible activity book with lyrics to follow along and fun facts about each state. Teachers and parents have permission to photocopy pages of the States & Capitals Rap book for instructional use. We've included additional games and suggested activities for learning the states and capitals.

 

Rock 'N Learn States & Capitals Rap includes:




Learn the States and Capitals
Rap the states in alphabetical order, followed by the capitals.




We'll Say the State, Then You Say the Capital
Presented in mixed order with delayed answers. Try to answer before D.J. Doc Roc.




Learnin' States and Capitals
D.J. Doc Roc says the capital, you provide the state. See if you are correct.




Let's Learn the States and Regions
The states presented by region.

 

A list of all the states and capitals of the USA

Alabama-Montgomery

Alaska-Juneau

Arizona-Phoenix

Arkansas-Little Rock

California-Sacramento

Colorado-Denver

Connecticut-Hartford

Delaware-Dover

Florida-Tallahassee

Georgia-Atlanta

Hawaii-Honolulu

Idaho-Boise

Illinois-Springfield

Indiana-Indianapolis

Iowa-Des Moines

Kansas-Topeka

Kentucky-Frankfort

Louisiana-Baton Rouge

Maine-Augusta

Maryland-Annapolis

Massachusetts-Boston

Michigan-Lansing

Minnesota-St. Paul

Mississippi-Jackson

Missouri-Jefferson City

Montana-Helena

Nebraska-Lincoln

Nevada-Carson City

New Hampshire-Concord

New Jersey-Trenton

New Mexico-Santa Fe

New York-Albany

North Carolina-Raleigh

North Dakota-Bismarck

Ohio-Columbus

Oklahoma-Oklahoma City

Oregon-Salem

Pennsylvania-Harrisburg

Rhode Island-Providence

South Carolina-Columbia

South Dakota-Pierre

Tennessee-Nashville

Texas-Austin

Utah-Salt Lake City

Vermont-Montpelier

Virginia-Richmond

Washington-Olympia

West Virginia-Charleston

Wisconsin-Madison

Wyoming-Cheyenne