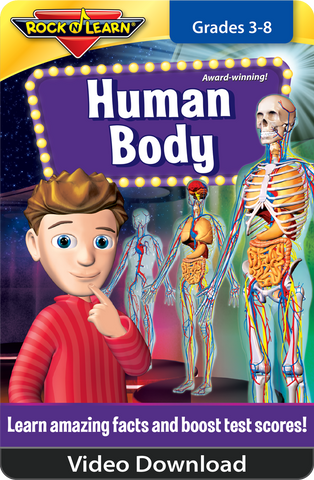 More ways to purchase:
This entertaining approach to the human body engages young, inquisitive learners, while the depth of material gets older students ready for tests. Join Kevin and his friends Marko and Bailey for an enlightening adventure to explore the skeletal, nervous, muscular, circulatory, urinary, respiratory, and digestive systems along with the five senses. Clear explanations, beautiful science models, and amusing animations make this DVD perfect for the classroom and home. 
Video downloads are delivered as MP4 files. For instructions on how to use these files, check your device's documentation or contact the manufacturer. Rental or streaming digital formats are available on Amazon and iTunes.
Grades 3 - 8. Approx. 44 minutes
(DD207)
The National Parenting Center's Seal of Approval

iParenting Media Award, Greatest Product

The Toy Man Seal of Approval

Family Choice Award – Family Magazine Group

Mom's Choice Awards, Gold Recognition

Creative Child Magazine, DVD of the Year Award

Tillywig Brain Child Award

Dove FAMILY-APPROVED Seal

"What an amazing video presentation. Kids from 5 to 15 (yes we know that's beyond the suggested age) found it fascinating. Everyone who watches, parents too, learn something they never knew before about the human body. There is a virtual tour of the skeletal, nervous, muscular, cardiovascular, urinary, respiratory and digestive systems. But Rock 'N Learn was not content to end the lesson there, they added a bonus section addressing the Alimentary canal, and more. It's quite remarkable and testers were excited to give it enthusiastic write-ups. Just goes to show, when you have something that makes learning science or any subject fun, you want to shout about it." – Review, The National Parenting Center Seal of Approval Holiday Report

 

"Join Kevin as he studies for a test on the human body. Marko the Pencil and Bailey the butterfly join him as they take you through the skeletal system, the nervous system, the circulatory system (also better known as the cardiovascular system), the urinary system, the respiratory system (including both the upper and lower), then the digestive system, including your alimentary canal (your mouth). Finally, learn about the five senses in extreme detail. You end with a fun "Body Wheel Game" that Kevin plays, which is an awesome review of the whole body. Their upbeat voices make learning fun, and the film includes lots of great visuals that show the details and songs with key words on the screen. "Rock N Learn" has won more than 150 awards and easily earns the Dove Family Approved Seal for easy learning." – Dove "Family-Approved"

 

"In this 52-minute animated video, kids go on a fun learning adventure with Kevin, a boy studying for a test on the human body. Together they join Marko the Pencil and Bailey, a life science expert, on the Super Science Station to learn about the human body. They explore the body's major systems – skeletal, nervous, muscular, circulatory, urinary, respiratory, and digestive – before moving on to the five senses. Kids identify with the inquisitive Kevin, and the easygoing back-and-forth dialogue between characters is loaded with essential information, making it easy to follow and absorb. Diagrammatic illustrations appear throughout, visually highlighting the body's inner workings as they're discussed. The segment on the five senses is equally entertaining and informative, and is followed by the Body Wheel Game, a game-show-like learning experience. Grades 3-8." – Tillywig Brain Child Award

 

"Intended for viewers in grades 4th through 8th, Human Body is a DVD by Rock 'n' Learn, correlated to National Science Education Standards that teaches young people about how the human body works. The virtual tour, enhanced by computer animation, covers the skeletal, nervous, muscular, cardiovascular, urinary, respiratory, and digestive systems, as well as the alimentary canal and the nature of the five senses. Bonus material includes tips for doing well on a science test, and good nutrition pointers for kids. Free study materials that go along with the DVD are available online. An entertaining and thoroughly educational resource that makes learning fun, ideal for public school libraries and classroom viewing." – James Cox, Midwest Book Review, Children's Bookwatch DVD Shelf

 

"Awesome! I appreciate the factual scientific names. The songs are cute, too. The animation is clear and entertaining. My child is a third grader and has been learning a lot of this at school. Their science teacher was excited when I shared this video with her. She has passed it on to the other teachers in her grade level to use with their students. This has good sound effects and colorful diagrams. I liked the colorful models, too. The Body Wheel was cute! My child liked it. It can be overwhelming for children to learn scientific facts. This DVD makes the information understandable and easy to learn. Thank you! This is a great product." – Reviewer, iParenting Media Awards

 

"A great teaching tool. Another wonderful addition to the Rock 'N Learn science DVD series." – Samantha H., 6th grade teacher

 

"This was an exceptional learning tool for children. It was concise, factual and it flowed very smoothly from one body system to the next, keeping the child's interest. The video encourages an interest in the child's own body, increasing their understanding of the human body functions and the medical terminology used to describe each body part." – Reviewer, iParenting Media Awards

Kevin loves learning about the human body. He's even considering a career in the medical field. His friend Marko the Pencil arrives and invites Kevin on an exciting journey to explore the human body at Marko's Super Science Station, along with Bailey, an expert on life science.




At the Body Systems Learning Center, our friends learn about the skeletal system, nervous system, and muscular system. They move on to explore the parts of the circulatory system and how it transports nutrients, gases, and wastes to and from cells. The systems of the human body harmoniously work together. The urinary system helps remove waste from the blood. Kevin learns how the respiratory system allows oxygen into the blood and lets carbon dioxide leave the blood. Each system of the human body comes to life with colorful models and diagrams.




Next, Kevin explores models and animations of the human digestive system to learn what it includes and how it works. Kevin joins Marko and Bailey on an amusement park ride called The Alimentary Canal. The Rockin' Molars provide musical entertainment along the way.




Then it's time to move on to the Sensory Learning Center to explore each of the five senses: sight, taste, smell, hearing, and touch. Large, realistic models help Kevin learn the parts involved in the five senses and how they work.




Before heading back home, Kevin becomes a game show contestant on "The Body Wheel." This is a fun way to review material about the human body and reinforce scientific facts and vocabulary words. Kevin leaves Marko's Super Science Station with a greater understanding of the human body and confidence to score high on a standardized test.




This DVD also includes bonus sections. Kids can watch the Alimentary Canal Song with lyrics on screen. They can practice answering standardized test questions with Marko coaching them and providing tips on how to read questions carefully, consider all the answers, eliminate obviously incorrect choices, and interpret a bar graph.




Help your child or students gain knowledge about the human body and learn important test-taking skills.

 

Human Body includes:

Skeletal System
Nervous System
Muscular System
Circulatory System
Urinary System
Respiratory System
Digestive System
Five Senses




Special Bonus Sections:

A fun ride through the alimentary canal with song lyrics on screen
Practice scoring high on a multiple-choice science test




This DVD makes it fun. Kids enjoy watching again and again, and very quickly they start retaining large amounts of information and new vocabulary words. Here is a list of the terms covered on Human Body DVD in the order they appear in the main program:




skeletal system

calcium

skull

brain

nervous system

nerves

spinal cord

sensory nerves

motor nerves

muscular system

tendons

skeletal muscles

circulatory system

nutrients

gases

wastes

cardiovascular
system

heart

blood

blood vessels

arteries

veins

kidneys

urinary system

urea

urine

ureters

bladder

urethra

respiratory system

diaphragm

nasal cavity

nasal passages

mucous

larynx

trachea

main stem bronchi

bronchi

bronchioles

alveoli

alveolus

capillaries

oxygen

carbon dioxide

vocal cords

digestive system

saliva

tongue

teeth

esophagus

epiglottis

stomach

gastric juices

small intestine

vitamins

minerals

proteins

carbohydrates

fats

pancreas

liver

bile

gallbladder

enzymes

large intestine

colon

rectum

alimentary canal

defecation

sight

taste

smell

hearing

touch

cornea

pupil

iris

lens

vitreous humor

retina

rods

cones

optic nerve

visual cortex

eyebrow

eyelash

eyelid

tears

sweet

salty

sour

bitter

umami (savory)

soft palate

olfactory epithelium

olfactory nerve

olfactory cortex

sound waves

tympanum

hammer

anvil

stirrup

cochlea

cilia

auditory nerve

semicircular canals

heat receptors

cold receptors

pain receptors

pressure receptors

touch receptors

right atrium

right ventricle

left atrium

left ventricle

smooth muscles

cardiac muscle