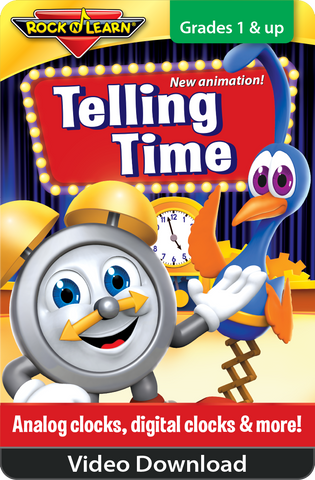 More ways to purchase:
In today's fast-paced world, kids need to know how to tell time quickly and accurately with both digital and traditional (analog) clocks. It's a breeze with the help of Timothy Time, the Clock that Rocks, and his comical friends. Fun music, catchy rhymes, and colorful animation entertain kids of all ages. This DVD video is perfect for learning to tell time at home or in the classroom.
Video downloads are delivered as MP4 files. For instructions on how to use these files, check your device's documentation or contact the manufacturer. Rental or streaming digital formats are available on Amazon.
Grades 1 & up. Approx. 46 minutes.
(DD347)
Parents' Guide to Children's Media Award

Parents' Choice Recommended

The Toy Man Seal of Approval

"Timothy Time and Kuku bird teach children how to tell time in this rockin' production. Snappy music and short segments will hold young viewers' attention as they learn how to tell time." – Parent's Guide to Children's Media Award

 

"This exciting video presents lessons about the difficult–to–grasp concept of time. Kids will learn how to read clocks and relate telling time to their everyday lives. This is an educationally valuable tool for home learning." – ReviewCorner.com

 

"I teach 2nd grade at Erickson Elementary School in Tucson, Arizona. I showed your Rock 'N Learn Telling Time video to my second graders for the second time today and they absolutely LOVE it! In the ten years that I've been teaching, I have never seen a better educational video. It is so terrific; it held my interest the whole time! It is so beautifully done and is just great! Not only that, telling time is a very difficult concept for 7-8 year olds to grasp and you not only made it easy, you made it FUN!" – Kelly Munsell

 

"My two boys, ages four and six LOVE this video. It covers everything you could think of and more, from telling time by the hour to the quarter hour to five minutes to each minute. It covers digital clocks, stop watches, calendars, days, weeks, months, etc. It absolutely will teach your kids everything you'd like them to know about time." – parent, Erie , PA

 

"My second grade students love this DVD. It teaches them in a fun and new way besides the traditional worksheet. I think all teachers should use Rock 'N Learn to enhance their classroom curriculum." – 2nd grade teacher

 

"My kids love this video. I bought it for my daughter to reinforce telling time she was learning in school. My 3-year old loved the video and begs to watch it. He actually learned how to tell time by watching this video. Even my one-year old loved it!" – Sandra, parent in Florida

 

"Rock 'N Learn Telling Time is a fun way for students to learn to use clocks. The songs and animation are spectacular. I recommend this tool for learning how to tell time." – J. Roberts, teacher

Timothy Time is more than just a lovable character – he knows how to clearly explain the concepts of telling time. Unfortunately many kids, even older ones, do not know how to tell time using an analog clock – one with hands. Telling Time DVD offers the perfect solution.




This video starts off easy and gives clear examples along with lots of humor and musical entertainment. Kids learn to tell time to the half hour, quarter hour, five minutes, and eventually to the minute. This video provides plenty of review and practice so that students build their skills every time it is used. As a bonus, this DVD includes days of the week, months of the year, and how calendars work.




Learning Time Today
Parts of an Analog Clock
Telling Time to the Hour
AM and PM
Telling Time to the Half Hour
Telling Time to the Quarter Hour
Practice Counting By Fives
Telling Time to Five Minutes
Review and Practice
Telling Time to the Exact Minute
Digital Clocks
Bonus: Calendars, Days of the Week, Months of the Year