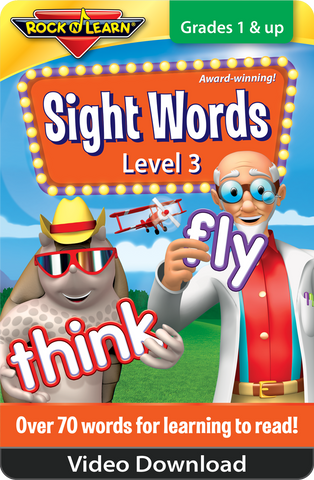 More ways to purchase:
Kids love reading and singing with the zany armadillo Festus and his friends. Sight words are the most common words in children's literature. Being able to read them quickly and automatically improves fluency, which leads to better reading comprehension. This video covers all Dolch first-grade sight words and many from the Fry's list. It reviews some of the words from Sight Words Level 1 (pre-k) and Level 2 (kindergarten). If your child is ready to begin reading first-grade words, this engaging DVD program will help boost their literacy skills.
Video downloads are delivered as MP4 files. For instructions on how to use these files, check your device's documentation or contact the manufacturer. Rental or streaming digital formats are available on Amazon and iTunes.
First Grade. Approx. 50 minutes.
(DD213)
The National Parenting Center's Seal of Approval

National Parenting Publications Awards (NAPPA) Gold Award

Family Choice Award – Family Magazine Group

Santa's Choice Awards

Mom's Choice Awards, Gold Recognition

Creative Child Magazine, Preferred Choice Award

"An impressive educational program for those who have learned some basic sight words and are ready to learn the words found in emergent and early reading texts. Six to 10 words are introduced at a time and then sung in context and sentences with animated pictures matching the words." – National Parenting Publications Awards, Gold Winner

 

"I surfed the internet, and yours were the best out there. I have been waiting for the Sight Words level 3 DVD to come out. My 1st grade students love the other sight word and phonics DVD's. They are fantastic. Besides that they ROCK. Thank you!!" – Linda A.

 

"Some companies know their niche, they have carved it out and with each passing year they perfect their craft further so that they don't just stand out, they stand alone. Rock 'N Learn holds that distinction when it comes to educational, musical-based learning on DVD. No matter the subject these guys make it fun, appealing and most importantly, effective. There is something about the catchy tunes, the wacky characters and the funny scenes that appeals to kids and opens the door to learning. This DVD truly makes it fun and easy to learn. Parents were thrilled because their kids didn't even realize they were learning. The time span of 50 minutes is ideal, just enough time for kids to get in some quality learning and not too long to lose their attention. That isn't something you guess, its something you study, learn and hone into a science, which is what Rock 'N Learn has done…again." – Review from National Parenting Center

 

"My grandson, JJ, has been watching the Sight Words I, 2, and 3 as well as the Letter Sounds, Phonics 1, Colors, Shapes & Counting, and the Phonics Easy Readers. He already knew his letters before watching the Rock N Learn videos so I wanted something that could take him to the next level. Man oh man, did we ever hit the JACKPOT!! The Letter Sounds video started where he was and went well beyond what I thought he could comprehend, but it didn't take long for the gap to start closing! JJ LOVES to learn and picks things up quickly. He now knows all of the letter sounds and when I use the sight words flashcards, I see him sounding out words that are newly introduced to him. I know that this is a direct result of watching your videos! JJ is 2 and a half, he'll be 3 soon, and he's well on his way. The Rock 'N Learn videos are a fabulous tool for us! Thanks so much! You guys really ROCK!" - Tracy C.

Colorful animation, lots of humor, and energetic music will get your child involved in learning to read. The comical characters present each sight word individually to practice quick recall. The characters also provide practice with the sight words in sentences, short stories, and songs. Learning sight words in a meaningful context assists with reading comprehension (reading for meaning). Singing along with songs that feature the sight words helps tap into different areas of the brain.




This program uses multiple methods for learning to read. It's fun, multisensory, and effective. It offers a distinct advantage over videos that only present sight words in isolation and apart from their meanings. Practicing the sight words in sentences and stories also builds reading confidence. Repetition is essential for learning to read sight words, and kids love using this video again and again.




A bonus chapter, accessible from the Main Menu, presents each word in isolation. This helps learners focus on the shape of a sight word and even provides a game to practice spelling each word. A submenu on the DVD allows you to jump to the group of sight words that you want to practice.




Sight Words Level 3 is designed to be effective at home or in the classroom, with individuals or groups. It's perfect for providing a differentiated approach to building language literacy.

 

Sight Words Covered:

just • stop • think • about • know • put • them • then
as • going • by • would • ask • walk • his • when • back • thank
open • door • close • over • river
once • an • old • has • again • if • could • fly • how • day • try
people • each • other • take • some • time
him • her • number • these • their • way • games
round • table • may • give • lives • after • write • many • birds
left • from • heart • of • every • had • part • any • were • more • made • work • which • why • gave

 

Bonus Sections: