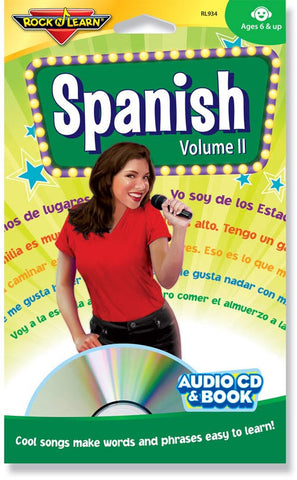 Rock 'N Learn Spanish Volume II audio CD provides easy instruction on how to speak Spanish by using fun songs covering pronouns, days of the week, months, travel phrases, telling time, and more. On Part A, students listen to words or phrases in English and then hear them in Spanish. On Part B, students hear the Spanish phrases followed by English to help check their understanding of Spanish. Part B also works well with Spanish-speaking students learning to speak English.
For ages 6 & up. Approx. 55 minutes.
(RL934)
Video version also available.
"The songs on this CD for learning Spanish are clever and catchy. The material is well-organized and keeps the instruction from getting too boring. By playing it in the car, not only are my children learning to speak Spanish, but my wife and I have picked up a lot of Spanish phrases too. We have the first volume and the second volume and can't wait for you to put out more." – Philip T.

 

"I was looking for CDs to learn Spanish and found Rock 'N Learn Volume 2 at the library. I liked it so much, I ordered my own and also the first volume. I have not yet tried the video but I want to get it too. Thanks for creating a great program that makes learning Spanish easy and fun." – April S.

 

"This is a useful tool for anyone who wants to learn to speak Spanish by using music on a CD. I recommend this CD and book to lots of people. I ordered extra books for all of my kids to have so they are not fighting over the one." – Gayle M.

 

"I used Volume I and Volume II to familiarize myself with Spanish. Combine that with a little Spanish TV and speaking it at work, and I am making good progress. You're programs gave me the confidence I needed to start speaking Spanish. I wanted to write you so that you could hear firsthand how your Spanish CD is helping people learn to speak a new language." – Randy J.

Volumes I and II of Rock 'N Learn Spanish audio CDs are each sold separately and come with an illustrated, follow-along book. Volume II covers the Spanish alphabet, words about travel, family, the seasons, leisure activities, question words, shopping, and more. Although this program makes a great follow-up to Spanish Volume I, it may be used independently.




Delayed answers on this Spanish CD make it easy to check your progress. Many audio programs for learning a language bombard you with too much material in hope that you will naturally assimilate it. That's not the case with Rock 'N Learn Spanish. We've broken the learning down into easily manageable chunks of information… simple words and phrases to make learning quick, easy, and entertaining. You will be amazed how quickly you learn to speak Spanish at a beginning level.




Teachers responsible for teaching English to persons who Spanish (ELL) will find Rock 'N Learn Spanish CDs useful because the first part of each volume presents English followed by Spanish. The second part presents Spanish followed by English. This is a practical way to learn or practice English independently.

 

Choose either Rock 'N Learn Spanish audio CDs or Rock 'N Learn Spanish Video DVD.

 

Rock 'N Learn Spanish Audio CD Volume II includes:




Part A (English – Spanish):

The Spanish Alphabet
Where Are You From?
My Family
Practice With Family Words
Counting Up to One Hundred
Practice With Number Words
The Calendar
Practice With Calendar Words
The Seasons
What Do You Like To Do?
What Time Is It?
Question Words
Directions

 

Part B (Español – Inglés):

El alfabeto de inglés
¿De dõnde eres tu?
Mi familia
Práctica con palabras de familia
Contando hasta cién
Práctica con palabras de números
El calendario
Práctica con palabras de calendario
Las estaciones del año
¿Qué te gusta hacer?
¿Qué hora es?
Palabras interrogativas
Direcciones