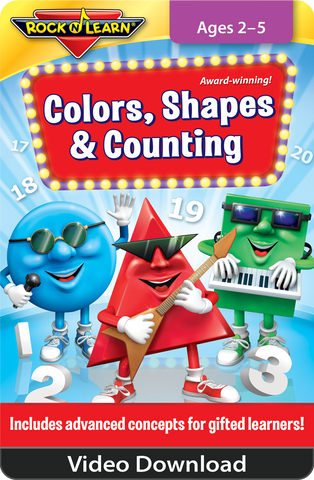 More ways to purchase:
Here is the perfect way to get your child ready for starting school. Young learners will enjoy these preschool readiness activities that include learning to count objects by color, shape, or a combination of both. Even gifted children will be challenged by the advanced colors (maroon, turquoise) and shapes (polygons, ellipses). Includes counting up to 20.
Video downloads are delivered as MP4 files. For instructions on how to use these files, check your device's documentation or contact the manufacturer. Rental or streaming digital formats are available on Amazon and iTunes.
Ages 2–5. Approx. 46 minutes.
(DD944)
Audio CD & Booklet also available.
Deluxe Board Book also available.
The National Parenting Center's Seal of Approval

Mom's Best Award

Creative Child Magazine, DVD of the Year Award

Learning® Magazine Teachers' ChoiceSM Award for the Classroom

Learning® Magazine Teachers' ChoiceSM Award for the Family

National Parenting Publication Awards (NAPPA) Honors

Mom's Choice Awards, Gold Recognition

Dove FAMILY-APPROVED Seal

"Meet Rollie Roundman, Trollie Triangle, and Rockford Rectangle as they teach you all about colors, specifically mixing primary colors to form new colors. Then, learn about how new shapes can be formed from standard shapes. Lastly, you will count shapes as you keep memorizing new songs and stomping your feet to the beat of the music.

"Their catchy songs make learning fun. The video features lots of great visuals to show colors, shapes and numbers. Rock 'N Learn has won more than 150 awards and easily earns the Dove Seal Family Approved for easy learning." – Dove "Family-Approved"

 

"Colors, Shapes & Counting Video – Narrated by three geometric dudes named Rollie Roundman, Trollie Triangle, and Rockford Rectangle, this fast-paced program works on many levels and will be enjoyed by younger children. Its structure is good, starting out with the basics (such as counting to five, or presenting the concept of a circle) and then moving to more advanced territory (counting to 20, and examining pentagons). The best segments deal with counting and shapes. The sound is clear throughout, and the lyrics are fun and informative." – School Library Journal

 

"Colors, Shapes & Counting Video – Utilizing music, songs and a creative use of computerized graphics, here is a video that young children will enjoy while learning. Well-paced and thoughtfully presented, children will learn simple but basic colors, shapes and numbers. Even some of our toddler testers were captivated by the bright colors and shapes on the screen. Children watched it again and again." – National Parenting Center Seal of Approval

 

"My daughter LOVES it! As my official 2 1/2 year old product tester, she can attest that she loves her 'Colors Movie,' referring to the Colors, Shapes and Counting DVD. I spent many years as an elementary school teacher convincing parents and students that sitting on the couch watching TV was not the ideal way to spend the afternoon. However, in times when necessary (rainy days, quiet times, sick days…) the right programming can make all the difference. I have a number of shows and movies that I STRONGLY believe are of tremendous advantage for children. One of these is Colors, Shapes and Counting DVD. The video, in a very animated fashion, invites the viewer to sing, to learn the colors, shapes and numbers. Why is it a Smarty Pants Product of The Week? Let's just say that my munchkin is still singing …. 'Red and Yellow mixed together make the color orange!' – a verse in track 11 of the DVD, and running around telling me every shape and color she can find in the house - track 7's 'What color is it?'! Can't argue with that!" - Smartypantsmama.com

 

"My son Elijah loves Rock 'N Learn! He's learning different colors and shapes and has strong knowledge from watching this movie. Thank you for making this DVD. He's learning more on a daily basis." – Chevae B.

Colors, Shapes & Counting features the comical adventures of Rollie Roundman, Trollie Triangle, and Rockford Rectangle. These playful characters help preschoolers master basic skills and concepts through songs, laughter, and games. Children will be so captivated by the bright, action-packed animation and engaging soundtrack, they'll want to watch and play again and again.




Even gifted learners will be challenged by the advanced concepts. Preschoolers review the basic colors and also learn maroon and turquoise. They discover polygons, trapezoids, the differences between a square and a rectangle, and more. They enjoy counting objects up to 20 by color, shape, or a combination of both… important preschool sorting skills. A deluxe, colorful board book with sturdy pages is also available (sold separately).

 

Colors, Shapes & Counting DVD includes the following:

Meet Rollie Roundman • Colors, Colors All Around • Basic Colors • Preschool Color Practice • Learn Our Shapes • Shapes Are All Around Us • What Color Is It? • Name That Shape • Music Helps Me Count to Five • What About Zero? • Mixing Colors • Counting Up to 10 • How Many Shapes? • So Many Shapes • So Many Colors • The Ellipse • Diamonds and Squares • Four Cool Shapes • What Are Polygons? • The Polygon Song • Let's Count to 20 • Fun Time Quiz