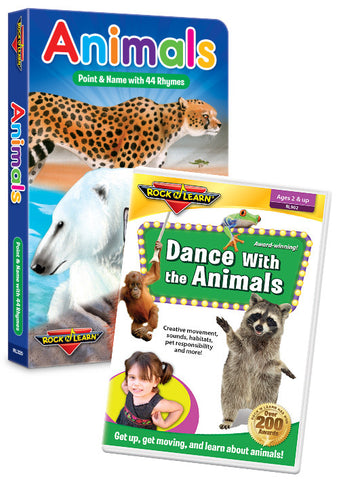 This combo set entertains your preschooler with fun facts about animals. The DVD features delightful songs and exciting live footage of more than 60 creatures from the farm, forest, and zoo. It promotes creative movement, motor skills, listening, and following directions. Kids love imitating the sounds and movements of animals and learn about caring for pets. A sturdy 30-page board book uses colorful illustrations and fact-filled rhymes to encourage little ones' curiosity.
In this exclusive web-pack you will receive:
Dance With the Animals DVD - 

Live footage of animals fascinates children as they learn fun facts about animals, follow directions, and build gross motor skills. Approx. 45 min. Ages 2 & up.

Animals Board Book - 

Beautiful illustrations of 44 animals accompany rhymes to learn intriguing facts. Kids love pointing to the animals and naming them. 30 pages. Ages 1 and up.
(RL822)