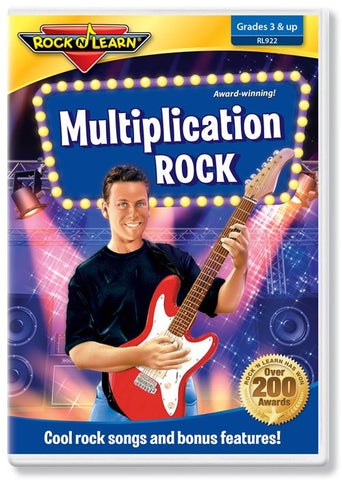 Learning multiplication is exciting when you rock! Upbeat music, energetic performers, and colorful action make these multiplication songs effective with kids of all ages. Learners develop quick, accurate recall for facts 2 through 12. This DVD includes a bonus section that explains what multiplication is all about.
Grades 3 & up. Approx. 50 minutes.
(RL922)
The National Parenting Center's Seal of Approval

Parents' Choice Recommended

The Communicator Award of Excellence

"As a parent, sometimes it's hard to remember just how daunting a task it was for many of us to commit to memory the multiplication table. Sure you'd breeze through the 2's and 5's but those darn 7's and 9's always tripped you up. As your children tackle the same tables, here's a video system that makes the memorization easier. Using upbeat music and vocals that are actually appealing and easy to listen to, this may be the video that helps your child past the tough challenge. The video features loads of positive encouraging lyrics that stay with your child all the way to school." – National Parenting Center Seal of Approval

 

"I just wanted to say thank you for having Multiplication Rock available to our son to learn his multiplication tables in his math class. We showed the video to his teacher and she really loves it. Our son was having a hard time learning his math and with him seeing the video each night with his homework, he is learning in ways that he was not able to learn his math." – Joan Thomsen: A very happy parent

 

"Thanks to your Rock 'N Learn Multiplication Rock, my son knew and understood (not just memorized) his multiplication tables through 12 when he was only 4 years old. Please put more programs on DVD. If you can put high school on DVD, he'll graduate when he's 8!" – Richard Stillman

 

"My son is so happy when he sees your Multiplication Rock video that he just wants to watch it everyday." – Joan Desoto

With this Multiplication Rock DVD video, kids tour a rhythmic factory, blast off on an interplanetary journey, and learn in a jammin' classroom. Each set of facts through 12 features its own musical adventure that entertains students as they tune in and learn.




Multiplication Rock DVD is effective for learning multiplication facts in the classroom or at home. First-time learners love an engaging way to learn multiplication to fun songs. Older students at-risk or in need of remedial assistance will appreciate the non-juvenile sound. Rock 'N Learn's high-interest music appeals to students of various age groups, from young first-time learners through those in their teens who want to improve speed and accuracy.




This DVD features a bonus section to practice skip counting. It also includes another bonus section to explain what multiplication is all about. For example, students learn how multiplication is repeated addition, the Nines Trick, the commutative property of multiplication, and more.

 

Multiplication Rock includes:

Multiply With Power (0x, 1x)
Multiply Two (2x)
Multiples of Three (3x)
Hang Around (4x)
Numbers' Beat (5x)
Prime Time (6x)
Doin' Alright (7x)
Singin' Along (8x)
Quick Reaction (9x)
Zero at the End (10x)
Revvin Eleven (11x)
Dozen Song (12x)




Bonus: What is Multiplication?